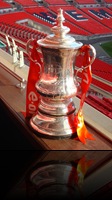 Manchester United will go a 6th year in a row without winning the FA Cup. In what has to be considered a major upset, Leeds United of the English Football League One stunned Manchester United 1-0 in the third round. 
In a game that will have many second guessing the team that Sir Alex Ferguson fielded, it was the perfect game plan from Simon Grayson that was nearly flawlessly executed by a Leeds team who wanted the victory more. Old Trafford is a tough and often intimidating place for most visiting teams but this seemed to help Leeds more than the home team. It appeared through most of the game that the ManU players appeared to think they were going to have a cake walk with the League One team but learned a lesson the hard way. It is hard to believe that a team with such history is down in League One, however, their heart, determination and tanacity shows why they are leading League One and will most certainly be promoted to the English League Championship next season.
As far as ManU are concerned, it was a team lacking all the characteristics that Leeds showed as a team. I still can't understand why Fergie considers Wes Brown as one of the best defenders in England as he was clearly beaten by the pace of Jermaine Beckford on the lone goal and had several issues during the game. The fact he was a late replacement for Nemanja Vidic, who pulled out lame in warm up, is little excuse. Gary Neville started at right back, why I am not sure. In his prime he was a good right back but is now slow and often caught out of position by the opposition's pace. Ryan Giggs he is not. He too was stuck in no man's land on the goal and several times he was outpaced in getting back to defend after moving up with the offense. I thought Rafael played a good game mid-week and should have possibly started again but Ferguson went with the old guy. Fergie also started 2 strikers, Gabriel Obertan and Danny Welbeck outside in the midfield, positions they are not used to playing. With Anderson and Darron Gibson also in midfield and neither able to control the game, Leeds dominated in the most important part of the field.
Although Fergie did replace Obertan and Welbeck with players, Giggs and Antonio Valencia, who are more accustomed to the position, it was a case of too little too late. Even replacing Anderson late with striker Michael Owen did nothing to prevent the loss. Dimitar Berbatov again looked like a lost puppy and I am not sure why he even plays. Wayne Rooney again had chances but as is customary with him, his chances were mostly wasted. If he could ever start connecting on the chances he gets he could be the best player in the world.
Sir Alex publicly stated that he was not looking to shore up his defensive corps during the January transfer window however after a display like this he may have to rethink it. He says that he has too many first team members at defense but does he really? Neville is nearly 35 and hardly able to play at the same level he used to.  Rio Ferdinand is injured too often to be relied upon and is over 30. Brown is now 30 and he too is often injured. The team needs another couple of players in the 25-28 age range who are dependable defenders who can play the 2-4 years needed before the youngsters like Rafael, Fabio or Jonathan Evans are ready to be every day regulars.
Hopefully Leeds United will take this victory and keep it going with a good run in the FA Cup and continued success in League One while Manchester United now have to concentrate on their Carling Cup tie with Manchester City as well as their Champions League tie with AC Milan and continued chasing of Chelsea in the Premier League.