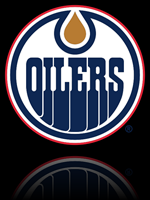 The Edmonton Oilers played 3 games this week. 3 games against teams at various levels of the standings. Unfortunately they lost all 3. All three were for reasons that are the running reasons they have now lost 13 games in a row. Last nights loss against the hated Calgary Flames set a team record. It is the first time in franchise history that they have gone 0fer in a month. ZERO wins and 2 lousy points from scraping through to overtime before succumbing to the loss.
Tuesday it was the Chicago Blackhawks making a trip to Edmonton. The game started off in typical fashion these days with the Oilers forgetting to show up to start the game and Jeff Deslauriers letting in that easy goal only 44 seconds into the game. It was bad enough the team didn't show up to start the game but this made it even worse. In fact, by time the team did show up to play it was 4-0 for the Hawks and they were just in cruise control and you could see they had taken their foot off the pedal. It was a game of men (Hawks) vs. boys (Oilers). In watching the first 39 minutes it was hard to realize that both these teams were in the same league.
The Oilers finally got on the board in the last minute of the second with Fernando Pisani finding the net. The Oilers then came out in the third and played a pretty decent period, although I am not sure if it was a case of the Oilers stepping it up a bit or the Hawks laying back. Probably a bit of both. Ryan Potulny closed the gap for the home team at 5:44 of the period but that was as close as it got. Again, weak goaltending and only playing for 21 minutes are not going to win you many games.