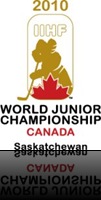 Team Canada played the first semi-final of the World Junior Hockey Championships this afternoon against a very surprising Swiss team. The Swiss found their way to the semi-finals by stunning Russia 3-2 in overtime during their quarter final game on Saturday. To say this was an upset is a huge understatement. I don't think that when the tournament began there was anyone, other than the odd delusional Swiss fan, that would have predicted they would be playing in the semi-finals.
The game started pretty much as predicted with Canada getting an early goal on the power play off the stick of Edmonton Oilers prospect Jordan Eberle. After that, the rest of the first period was scoreless although the Canadians dominated much of the play but were unable to solve Swiss goalie Benjamin Conz. Conz was one of the main reasons the Swiss beat Russia yesterday as he had 50 saves on 52 shots. Both teams had powerplays throughout the remainder of the first.
Canada came out flat to start the second period and gave the Swiss a couple of early power plays chances to even the score but the Canadians ended up with a great short handed goal by Marco Scandella. This was followed less than 2 minutes later with a great play by Taylor Hall to make it 3-0. Canada continued to play lazy and soon after took their third penalty of the period. The Swiss finally capitalized to make it 3-1. The Canadians still didn't learn and took their 4th penalty of the period but they were able to kill this penalty off and were able to close out the period with a 3-1 lead.