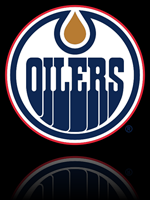 The Edmonton Oilers entered the HP Pavilion (known as the Shark Tank) for a Saturday Matinee game winless in 2010. Their last taste of victory was on December 30th against the almost as hapless Toronto Maple Leafs. 6 games, having been outscored 23-13 over that period and team had to face the top team in the league in order to break out of the winless streak. Not a positive outlook for this team. That with the fact it was an afternoon game which, throughout their history, the Oilers have not done a good job of showing up for.
The Oilers have shown over the first 46 games that their line-up and team make-up is filled with weaknesses. If only took the San Jose Sharks 3:51 to expose one of them. That dreaded weak goal. Patrick Marleau was given credit for the goal as his centering pass from the corner hit Oiler's starting goaltender Devan Dubnyk's stick and deflected through his legs and into the net. Definitely not the kind of gift that the league's top line needs and not the way the Oilers need to start a game.
The Oilers did have a bit of life though and were able to tie the game briefly with 16 minutes gone in the period as some hard work down low by Andrew Cogliano and Sam Gagner lead to a great cross ice pass from Gagner that found the stick of a pinching Denis Grebeshkov who made no mistake beating Shark's starter Thomas Greiss who was making his 7th start of the season.
That was as close as the Oilers would get though as another of their nemisis bit them less than 3 minutes later. Dustin Penner was nailed for a high sticking call out near center ice. It was one of those lazy, unnecessary penalties that ultimately seems to cost the Oilers and it took the Sharks only 54 seconds to find the twine as Devin Setoguchi gave them the lead for good. Outshot 16-6 in the period the Oilers were lucky to get out only down by 1but some good goaltending by the rookie Dubnyk kept the Sharks circling but not biting.