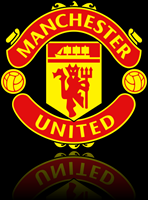 Saturday afternoon it was second place Manchester United taking on 15th place Burnley F.C. in this weeks English Premier League action. ManU came into the game needing a win in order to keep pace with front runners Chelsea while Burnley needed a result to help keep themselves above the relegation zone.
On paper this should have been a cake walk for United with 13 places and 24 points separating the 2 teams in the standings. Burnley had also not won a game at Old Trafford since 1962 so history was also behind United on this day.
The game was eventually won by the Red Devils by a score of 3-0 but the score flattered the home side. The Clarets had the 2 best chances to score before the goose eggs were finally broken. Both Steven Fletcher and David Nugent exposed the weak United back as each were sent in alone by ex-United player Chris Eagles but their finishes both missed the target. Disappointing for a club that had held their own.
Immediately following the Nugent miss, United came the length of the pitch and in the 64th minute it was Dimitar Berbatov who found the mark with a deflected shot off a defender. 5 minutes later it was Wayne Rooney who added some insurance. Mame Biram Diouf replaced Rooney in the 73rd minute and the new guy opened his United scoring account in extra time to close out the scoring for the game.
ManU have to feel lucky that this was their opponent today as another team of quality would most definitely have put the screws to the Red Devils on this day. If either of those glorious chances had been taken then it would have been a different game.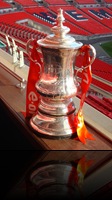 Manchester United will go a 6th year in a row without winning the FA Cup. In what has to be considered a major upset, Leeds United of the English Football League One stunned Manchester United 1-0 in the third round. 
In a game that will have many second guessing the team that Sir Alex Ferguson fielded, it was the perfect game plan from Simon Grayson that was nearly flawlessly executed by a Leeds team who wanted the victory more. Old Trafford is a tough and often intimidating place for most visiting teams but this seemed to help Leeds more than the home team. It appeared through most of the game that the ManU players appeared to think they were going to have a cake walk with the League One team but learned a lesson the hard way. It is hard to believe that a team with such history is down in League One, however, their heart, determination and tanacity shows why they are leading League One and will most certainly be promoted to the English League Championship next season.