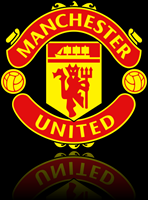 Saturday afternoon it was second place Manchester United taking on 15th place Burnley F.C. in this weeks English Premier League action. ManU came into the game needing a win in order to keep pace with front runners Chelsea while Burnley needed a result to help keep themselves above the relegation zone.
On paper this should have been a cake walk for United with 13 places and 24 points separating the 2 teams in the standings. Burnley had also not won a game at Old Trafford since 1962 so history was also behind United on this day.
The game was eventually won by the Red Devils by a score of 3-0 but the score flattered the home side. The Clarets had the 2 best chances to score before the goose eggs were finally broken. Both Steven Fletcher and David Nugent exposed the weak United back as each were sent in alone by ex-United player Chris Eagles but their finishes both missed the target. Disappointing for a club that had held their own.
Immediately following the Nugent miss, United came the length of the pitch and in the 64th minute it was Dimitar Berbatov who found the mark with a deflected shot off a defender. 5 minutes later it was Wayne Rooney who added some insurance. Mame Biram Diouf replaced Rooney in the 73rd minute and the new guy opened his United scoring account in extra time to close out the scoring for the game.
ManU have to feel lucky that this was their opponent today as another team of quality would most definitely have put the screws to the Red Devils on this day. If either of those glorious chances had been taken then it would have been a different game.
The game (again) exposed some weaknesses in the United side, weaknesses that have been evident for a while and weaknesses that Sir Alex Ferguson fails to admit are there. The defensive coverage is at times atrocious. Patrice Evra does a great job on the back left side but with Rio Ferdinand and Nemanja Vidic both missing in the central defense, this team is porous at the back and teams have had little trouble exposing this. Last season they allowed 24 goals in 38 EPL matches. This season they have allowed 19 in just 22.
The midfield is no longer dominant. With a game breaker like Cristiano Ronaldo the team could dominate the midfield of most games. This is no longer the case and without this domination it further exposes the weakness at the back. The midfield is not a bad group of guys but just don't control a game as they should. Antonio Valencia has been a pleasant surprise and Ryan Giggs has shown he can still play the game when he is in the line-up. Michael Carrick, Darren Fletcher and Anderson all do a good job in the central areas of the midfield but Paul Scholes is now more of a hinderance than a help. His tackles are so mis-timed that he deserves a yellow card almost every game he plays. Nani has been a bust. He gives the ball away and has little field presence and will try to take on an entire team when there are clearly team mates open who could be more threatening.
Up front you have the work horse Rooney. He covers the entire field and has done a decent job of netting goals this year although as is the case with Wayne, he should have many more. Rooney is a striker that is best playing at the second level of a strike force. Berbatov is one of those guys you would love to strangle. For 2 years now most United fans have been waiting and hoping to see what the hype was in signing this guy. While at times he does show some sublime play and other times he looks enigmatic. In my opinion he is not the player that United needs playing with Rooney. This team needs a true poaching type of striker, similar to Ruud van Nistelrooy when he played with the team or even Michael Owen in his younger days.
This team has not recovered from the loss of Ronaldo and that may take a season. He was a player who could single handedly control or break open a game and United don't have that type of player any longer. If this team wants to win the EPL again or have any chance in the Champions League, several players are going to have to step up. I still think some positions need to be shored up and with speculation that Vidic will be moving to Real Madrid to play with is buddy Ronaldo, this team would be better to bring in a replacement for both him and Ferdinand now and slowly work them in before next season or they will be looking back at this time next year and wondering why they are so weak defensively.