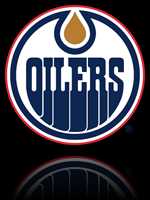 Wow, did I have to put up with a brutal night last night. I am not sure which pain was worse. The pain that comes after the freezing wears off after having a wisdom tooth extracted and tooth next to it getting drilled and rebuilt or the pain of having to endure the Edmonton Oilers play their game against an equally inept Columbus Blue Jackets team.
Let's face it. There are some serious issues with this version of the Edmonton Oilers. What team, (a) knowing their golfing weekend had been cancelled due to lack of effort, (b) having to deal with wives/girlfriends who were looking forward to going to warm California and are probably pissed at them, (c) wanting to prove that they were better than they had been playing and thus making the upcoming mini-camp a little easier on themselves, comes out against an equally bad team who hadn't won on the road for 13 games and lays an egg like the Oilers did last night. I am sorry to say that the 4 day mini-camp that starts today is not going to make one bit of difference. They might (just might) win the first game or 2 afterwards but the last 37 games will be back to normal.
The team proved last night it doesn't have the leadership to take this team forward. The leadership on this team clearly showed last night that they don't have the heart, soul, want or desire to make this team better. Leaders, like Mark Messier, would take the team on his shoulders and show the rest of the team the want, desire and way they needed to play the game. He would also make that you followed his example or you paid the price. The Oilers get none of that from any of the guys who wear the "C" or the "A". And, the guys not wearing those letters are either too small, too young and inexperienced or not talented enough to lead this team; at least at the present time.