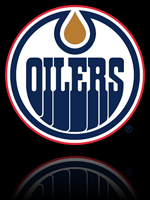 So how do you know that your season is Going to Hell in a Handbasket? When the officials buy a dive of monumental proportions in overtime and you lose on the ensuing power play. What happened last night was a case of Murphy's Law. What can go wrong, does.
The Edmonton Oilers played possibly their best game in months yet they still managed to lose the game. They outplayed the opposition almost to a man, they out shot them, they out hit them, blocked over 3 times more shots, and even had less giveaways yet they still lost the game. There was 2 places they didn't outplay the Canucks and in the end, those 2 facets of the game ended up costing them the game.
5 on 5 the Oilers were a far better team than Vancouver. But one of the major achilles heels of this team was blown out of the water. The Sedin twins were almost non-existent for most of the game however they were busy strutting their stuff during the power play. A power play that was 3 for 4 and only spent a total of 3:27 on those man advantage situations. Between them the Sedin's picked up 1 goal and 5 assists for 6 points.