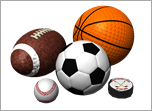 Hello again sports world. After 7 months of keeping my thoughts on sports to myself I have decided to start back with my sports blog. I have renamed Sportsguru to EclecticBlogs sports to go with my domain name. If you are interested in any of my posts before 2010 you can find a link to my SportsGuru archives in the right hand column.
So to start off I would like to wish everyone a safe, happy and prosperous 2010.
I have a lot to say about the various sports that I watch and follow so if you want my take on what is going on in my favorite sports or with my favorite teams, keep me in mind and keep watching for my updated posts.