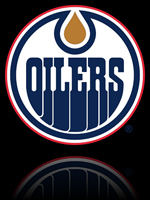 The Edmonton Oilers started their final 38 games tonight knowing for sure that goaltender Nikolai Khabibulin is officially done for the season as he has opted for back surgery to try and correct his herniated disc problem. The Oilers GM Steve Tambellini has also come out and said that the team will not be going out to look for a new goalie to get them through the rest of the season. With both Jeff Deslauriers and Devan Dubnyk both needing to clear waivers next season if they get sent back to the minors this is the smart thing to do. One of these guys will be the Khabibulin's back-up next year and the Oilers need to see which of these goalies is going to be their goalie of the future and which guy they can take a chance on losing by sending back down. As I said before, these 2 young goalies have to be started on a rotating basis no matter what. Let's see what they are made of.
The first period tonight had to be one of the most boring periods of hockey I have seen in a while. There were only 7 total shots (4 by the Oilers) and no goal and very little in the way of action. Other than some good work by Robert Nilsson and Andrew Cogliano and a great hit late in the period by Dustin Penner it was booooorrrrring hockey.
The one thing I was impressed with in the first period was the defensive work (yes, defensive) by Robert Nilsson especially in taking the puck away from a much larger Michael Rupp in the defensive zone. The Oilers did some good work and ended the period getting a 5 on 3 powerplay as the Pittsburgh Penguins were guilty of taking 2 penalties at the same time with 12 seconds left. The Penguins played the period like they thought this game was going to be a gimmie.