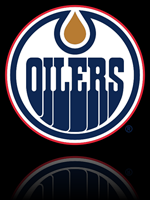 The reasons were different but the result was the same. The Oilers finished the 2009 portion of their season losing to Calgary 2-1 in a game that could have been much worse had it not been for Jeff Deslauriers' great job goaltending. His 37 saves was the reason it was only 1 goal loss. The rest of the Oilers decided to start their New Year's celebration early and never showed up to test the Flames back-up goaltender Curtis McElhinney. 22 shots is hardly the kind of work needed to test a second string goalie who plays so infrequently that he has slivers on his butt from riding the pine.
Saturday night the Oilers started the 2010 portion of their schedule with a 4-1 loss to the Sharks in San Jose. Same result, one big difference. Again, the Oilers offence didn't create the kind of chances that win many games but today they didn't have the goaltending to give them any chance to win. While he stood on his head to make the saves against Calgary, Deslauriers appeared to be sleeping through portions of the game and 3 of the 4 goals should have been saved. Yes, as usual there were defensive breakdowns but fluff shots should not go in no matter who is in goal. Critical saves need to be made at critical times in order to give your team and chance to win and this happens to infrequently.
There are many problems with this team but the lack of an experienced goaltender is a big one. Play Khabibulin 50 or so games and have Deslauriers play the other 30, that was the original plan. This plan allows a young goalie to play some games and get experience and learn from a proven veteran. With Khabibulin on the shelf, who is Deslauriers learning from? Certainly not from a goaltending coach whose 17 years were mostly spent in the minor leagues. Frederic Chabot only played 32 games in the NHL during those 17 seasons.
Now it has been more than goaltending that has lost games for the Oilers but I will get into that as I go along with my posts. Maybe it is time this season to shut the "Bhulin Wall" down and start rotating the young goalies. Devan Dubnyk has been up with the team since Khabibulin went down but has only had a minor amount of playing time. He is in the same situation that Deslauriers was in the past few seasons. In fact Dubnyk has been sitting around so long that he was sent back to Springfield to get some playing time and Bryan Pitton, who was toiling in the ECHL was called up to back up Deslauriers. This season is already gone and it is just a matter of how low can they go so maybe it is time to give Dubnyk some additional playing time with Deslauriers obviously not able to handle the load (at this point of his career anyway) and Devan being touted as the goalie of the future for this franchise.
It appeared in the post game interview last night that Pat Quinn has given up on this team recovering (as I think most fans have). He used terms like "battled hard", and the "guys had try". Quinn literally sounded defeated, much as Craig MacTavish did much of last year. I think most fans would agree now that it is time to get rid of some of the older dead wood and start a full rebuilding. The team rebuilt the coaching staff after last season and it is now time to start with the team. There is too much uninspired play by many of the team and that is being lead by a veteran core that looks like it could care less. Mike Milbury (who has proven nothing as a coach or GM) said last night after the game that the current Oiler team was the worst team in their 30 year history. I am not sure it is the worst, but it is definitely in the top (or is that bottom) 3 Oiler teams for sure.