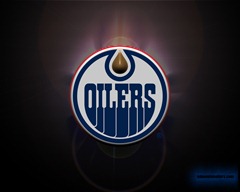 After the debacle against the Anaheim Ducks on Friday the 13th, the Edmonton Oilers came out against the Los Angeles Kings and won by a 2-1 score. It was the kind of game most fans would like to see more often. They followed that hard working game with more of a half hearted effort against the Columbus Blue Jackets. The result of course was a loss to the last place team in the league by a 4-2 score.
The team then came out with a better effort against the St. Louis Blues and although they failed to show up for the first period, being outshot 19-4, they played a solid last 40 minutes and lost 1-0 with the Blues scoring with under 6 minutes to go.
They followed up that decent performance with another debacle last night against the Calgary Flames. The game was a joke and it was the 9th straight victory for the Flames over the Oilers in the Battle of Alberta. The Battle of Alberta has been hardly a battle the last several years and has become a game where those Flame's players who are having scoring problems break out of slumps.
The Oilers, for the most part, seem to be playing good for a game and then bad for 1 or 2 before the compete level shows up again for a game. So where does the team go from here for the remainder of the season?
This team started the season with the goal of playing meaningful games in March and April and here we are, a week before the All-Star break, and chance of playing meaningful games in March and April have all but evaporated. Unless of course meaningful meant fighting to stay out of 30th place but seeing how they played last night, they appear to have a good shot at a 3rd straight last place finish.